Discover Naka Bay Sea View Condominium, Your dream holiday property
Designed for nature lovers, the peaceful Naka Bay Sea View Condominium offers an opportunity to secure a secluded unit with a return on investment 7% Guaranteed Rental Return for 15 years.
Tucked away in the hills of Kamala, Naka Bay Sea View Condominium features one-bedroom units surrounded by Phuket's lush nature.
Receive the Brochure and the Price List


Naka Bay Sea View Condominium is a modern, luxurious development featuring units of 35 square meters. The location is off the beaten path and gives way to amazing views. The sea view condominium is located just 200 meters from Naka Beach.
Each sea-view unit has a private balcony with a rooftop sunbath platform, offering owners the chance to unwind and appreciate the natural surroundings.
Naka Bay Sea View Condominium has a wonderful location in the Kamala Hills, with splendid views of Kamala Bay. The sea view condominium is modern and contemporary while being surrounded by nature. The one-bedroom sea view units feature an open plan kitchen, as well as open plan living and dining areas with ample space.
The tropical grounds of the Naka Bay Sea View Condominium are a natural green space. There is a common swimming pool, surrounded by landscaped gardens and terrific sea views.
Property Type: Sea View Cottage
Plot Size (sqm): 103,972
Layout: 65 & 75 sqm, 1 bedroom
Total Units: 300
Completion Date: 2022/2023
Ownership: Protected Leasehold
Return: 7% NET guarantee for 15 years
Style: Tropical / Contemporary
Kitchen: Open plan kitchen
Living Room: Open plan living area
Swimming Pool: Private sea-view balcony pools / Jacuzzi
Balcony: Private
View: Panoramic Sea View and Landscape Garden / Mountain View
Distance from the sea: 300 meters
Naka Bay Sea View Condominium is nestled in the hills of Kamala. The location is surrounded by towering palm trees and is a nature lover's dream. The tranquil area is a few steps away from Naka Beach and affords splendid sea views. The central neighbourhood of Kamala village is just a few minutes' drives from the condominium.
Kamala is home to great restaurants, vibrant local markets, and a variety of cafes & pubs. Kamala Beach is an expansive stretch of white sand as well as a favourite family-friendly beach for locals and ex-pats. Phuket Fantasea, an exuberant show/cultural theme park that combines the rich heritage of Thailand with unique 3D effects and animals, is also nearby.
For those wishing to explore the rest of the island, Patong Beach is a short, fifteen-minute drive away while Central Festival and Phuket Town can be reached in approximately thirty minutes. Phuket International Airport is within close proximity as it is just 27 km away.
Safe Investment with Guaranteed Return
This prime real estate investment, with wonderful views of Kamala Bay, comes with a 7% NET rental guarantee for the next 15 years. The enviable location is just steps from Naka Beach and close to Kamala Beach, which gets a high share of the rising numbers of tourists to Phuket annually.
Competition in this idyllic area is limited. The one-bedroom units are tucked away amongst nature, yet close to the local Kamala Beach and not far from the hustle and bustle of Patong. Naka Sea View Condominium is located in a tranquil area, surrounded by nature with easy access to Naka and Kamala beaches.
 Promotional Prices
Leasehold units 35 sqm from 2,990,000 THB
(normal price: 4,100,000 THB)

Freehold units 35 sqm 3,700,000 THB
(instead of 4,300,000 THB)

Including Furniture + Rental Guarantee

The 7% cash back will be paid within 30 days after full payment
Buy Back Option: available after 10 or 15 years at the original price
No additional fees within all Rental Guarantee period
from

2,990,000 THB
4,100,000 THB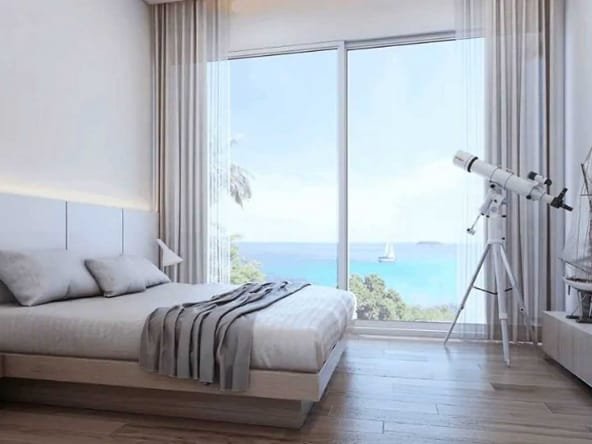 from

2,990,000 THB
4,100,000 THB
Kamala, West Phuket
Details