Welcome to Patong Bay Hill, the most popular Residence project in Patong
The modern tropical residence nestled in Nanai Hill is a highlight of Patong Bay, well known for the spectacular view over Patong city and the Andaman Sea.
The Project is ideally located in a private valley 5 minutes from the heart of Patong, within the natural environment with charming sea view and greenery mountain view.
Patong Bay Hill Phase 2 consists of 19 buildings with 469 units, these newly built apartments were cleverly designed and finished to the highest standards.
This residence offers to the investors the opportunity to own property in Phuket's most prized parcel of Real Estate with access to world class facilities.
Receive the Brochure and the Price List


Leading Developer
Patong Bay Hill 2 is developed by Pisona Group, a leading full-service real estate services and investment organization in the island.
Pisona Group is the largest residential real estate and investment firm in Phuket, with gross sales over 1 Billion Thai Bath and around 3,000 employees. Phuket Holiday Services, its sale department, serves real estate owners and investors for property sales and leasing, mortgage banking, appraisal and valuation, investment management among their services.

Unique Design
Patong Bay Hill 2 is a new luxury apartment Residence  with a total of 199 units in 4 buildings, fully furnished including kitchen and all appliances.
With a breathtaking pool or garden view, each unit is 45 sqm with a one bedroom layout in a contemporary design, making sure you got the room for yourself, so you can relax and enjoy Phuket to its fullest.
On top of that, due to being nestled in the heart of Phuket, you also have many close-by opportunities to enjoy this island. If you'd like to go shopping, just lay at the beach, or if you just want to go on a hiking trip, you'll always be sure to know that you can later return to your state-of-the-art apartment.
Unique Opportunity
As the owner of your very own luxury apartment in Patong, you have the possibility to use the unit 4 weeks in low season, or 2 weeks in high season and 2 weeks in low season, with no added cost for electricity, water or monthly fees.
Patong Bay Hill 2 offers a special Rental program with a 7% net guarantee including no monthly fees, electricity, maintenance and sinking fund cost, and if you pay in full during construction, you will receive a 3.5% within 30 days from final payment and then 7% for 15 years after hand-over date.
Location: Patong, Phuket's West coast
Ownership : Protected Leasehold
Gaurantee Return: 7% NET for 15 years
Property Type : Sea View and Garden View Residence
Plot Size : 93,000 m2
Built up area : 16,000 m2
Completion date : 2020
Layout : 45 m2 with 1 bedroom
Style : Modern/Contemporary
Kitchen : Open plan kitchen
Living Room : Open plan living and dining area
Swimming Pool : Common swimming pools
Balcony : Pool access and private Jacuzzi
Garden : Landscape Garden -View : Sea/Mountain
Distance to Town : 1 km
Distance to Beach : 800 meters

Exclusive Offers
Rental guarantee conditions
7% NET (subject to WHT) rental guarantee (no monthly fees, no electricity, no maintenance, no sinking fund…) for the first 15 years.
After 15 years possibility of renegotiating a new rental guarantee period.
Note: In case client pays in full during construction he will get 3.5% within 30 days from final payment and then 7% for 15 years after hand over date.
Buy back option
Available at from year 10th to 15th at the original price
Buyback year will be counted from the closing date
Owner benefits
Possibility for the Owner to use the unit 4 weeks in low season or 2 weeks in high season and 2 weeks in low season, with no cost for electricity, water and monthly fee. Free shuttle service to the beach is included. Discount on tours bookings and Residence Restaurant and Spa prices will be offered.
Promotion: Pre-launch Price + 20% Discount
Large unit 45 sqm from 2,790,000 THB only!
7% Rental Guarantee for 15 years + Buy Back option + Furniture included
from

2,790,000 THB
4,095,000 THB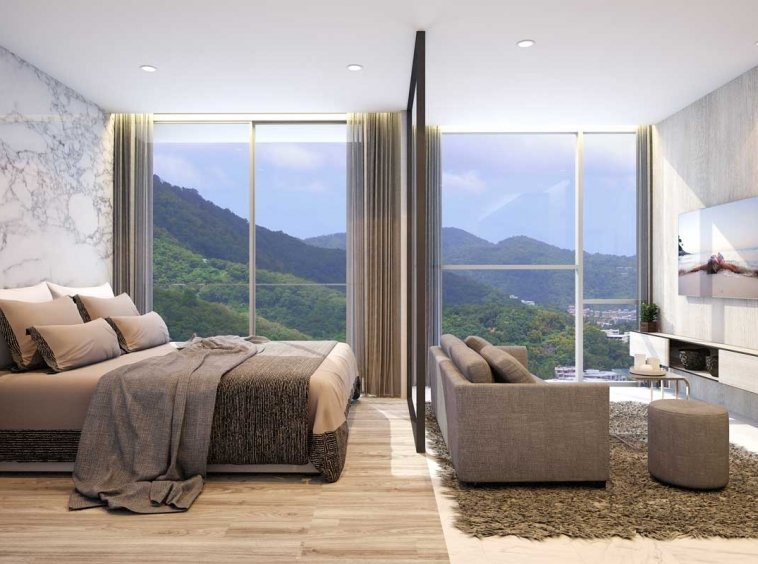 from

2,790,000 THB
4,095,000 THB
Patong, West Phuket
Details