Welcome to Patong Bay Residence 3, in the heart of Phuket's entertainment area
A stunning executive residence, luxuriously styled and finished, located right in the heart of Phuket's Entertainment and Tourism area of Patong, and only a 10 minute walk to the famous Patong Beach with its white sands and glistening tropical waters.
Patong Bay Residence Phase 3 is a modern style condominium with 114 units, 1 bedroom 1 bathroom condominium with sophisticated, contemporary, executive suites finished to the highest of quality. Modern open plan layout fully furnished throughout with a separate bedroom and kitchen facilities.
The on-site facilities will include a roof-top pool and decked lounge area, fully equipped fitness centre, a wellness centre and restaurant. Closed to the popular Patong Beach, Patong Bay Residence is an idyllic holiday home on the tropical island of Phuket, Thailand.
Receive the Brochure and the Price List

Leading Developer
Patong Bay Residence Phase 3 is developed by Pisona Group, a leading full-service real estate services and investment organization in the island.
Pisona Group is the largest residential real estate and investment firm in Phuket, with gross sales over 1 Billion Thai Bath and around 3,000 employees. Phuket Holiday Services, its sale department, serves real estate owners and investors for property sales and leasing, mortgage banking, appraisal and valuation, investment management among their services.
Modern Design
Each fully furnished 1 bedroom unit will be 34 m² in size in a modern contemporary style. Even the open-plan kitchen, living and dining area will live up to the modern western standards that are in such high demand at the moment.
Each unit comes with its own balcony, each with a beautiful view over the Patong Bay and only 850 meters to the beach. If you however shouldn't feel like walking to the beach, there is a common swimming pool on the rooftop overlooking the Bay.
Besides that, living in the Patong village is already an exciting experience by itself. There are many food vendors and activities for you to take part in. Patong is known for its glossy and bright atmosphere, and its nightlife is truly one of a kind!
The Patong Bay Residence has its very own residence restaurant, serving only the best in local and international cuisine and a state-of-the-art spa for you to relax on your holiday.

Location: Patong, Phuket island
Distance to Beach: 850 meter
Property Type : Condominium
Ownership : Leasehold and Freehold
Guarantee Return: 7% NET for 15 years
Completion date : 2023
Layout: 1 bedroom, 34 sqm and 42 sqm units
Style: Modern/Contemporary
Kitchen: Open plan kitchen
Living Room: Open plan living and dining area
Swimming Pool: Common on roof-top
Balcony: private
Exclusive Benefits
Rental Guarantee
7% NET Rental Guarantee for 15 years (subject to WHT) will be paid in advance
(No maintenance fee, no utilities, no common area fee, no sinking fund for 15 years)
Buy Back Option
After 10 years from the closing date the buyer may apply for the buyback option and receive back all the money paid
After 15 years possibility of renegotiating a new rental guarantee period
Extra fees
Registration tax will be shared 50%-50% between Buyer and Seller.
Lawyer Fee: 10,000 THB
Owner Benefits
Possibility for the Owner to use the apartment 4 weeks per year, free from the costs of electricity, water and monthly fee.
Pre-Launch Promotional Offer

Leasehold unit 34 sq.m from 2,754,000 THB
Freehold unit 34 sq.m from 3,304,800 THB
7% Rental Guarantee for 15 years + Full Furniture included
from

2,754,000 THB
3,825,000 THB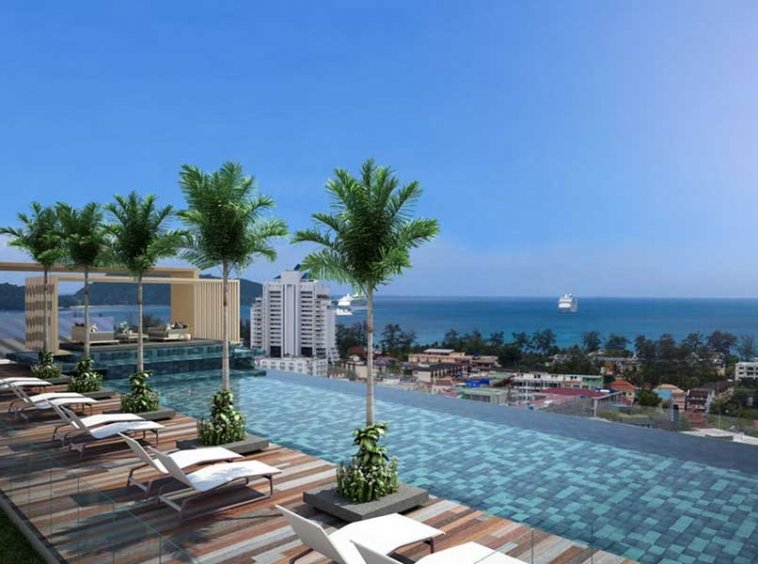 from

2,754,000 THB
3,825,000 THB
Patong, West Phuket
Details