Welcome to Phuket Water World, the best investment opportunity in Phuket
Phuket Water World is set on a prime land located in trendy Bangtao, on the West coast of the island. Nine kilometers of white sand coastline and blue water ocean are just 150m from your apartment.
Right next door you will find Laguna Phuket. A high-end area with 5-star hotels, golf courses, galleries, top restaurants and entertainment. Bangtao is a destination for everyone, kids, couples and families will all find what they are looking for in their unforgettable holiday.
The Project is managed by one of the leading real estate group in Thailand and offers a unique turnkey investment and a guaranteed income for 3, 5 and 10 years plus a buyback guarantee.
Phuket Water World project in Bangtao has been rewarded as 'Best Innovative Investment Product' at the Dot Property Thailand Awards 2019, definitely an investment opportunity not to be missed!

Leading Developer
The New Nordic Group has, since its beginning, been dedicated to find new and emerging destinations and to see the potential of these locations by utilizing new and innovative approaches. By bridging the real estate and hospitality sector, the Group has been able to offer a range of great investments and holiday experiences to their people and partners. The Group is dedicated to continue to venture into new and coming destinations and opportunities in a constantly evolving world.
In today's world, great investments and holiday experiences must be rooted in a business model focused on sustainable and ethical operations. As a result, the Group has taken their social (orange) and environmental (green) initiatives at all locations to a new level and built a new strategic framework labelled "One World" for all operations. As such, the Group is in 2019 taking a stand to become a leader for change in their industry.

Project Location
Phuket Water World is located on the idyllic Bangtao Beach, only 30 minutes' drive from Phuket International Airport with direct flights to many metropolitan cities in the world or a fast and convenient transfer from Bangkok airport. The area is unique in the way that it makes up a secluded community with quiet beaches and family friendly areas. It is also close to the Laguna project and its par-71 golf courses.
This area makes up the busy hub of Phuket with a wide range of restaurants and bars, a vibrant night life and fun activities such as diving and day trips to the exotic islands for the whole family. It is also a great starting point to explore other areas of the island.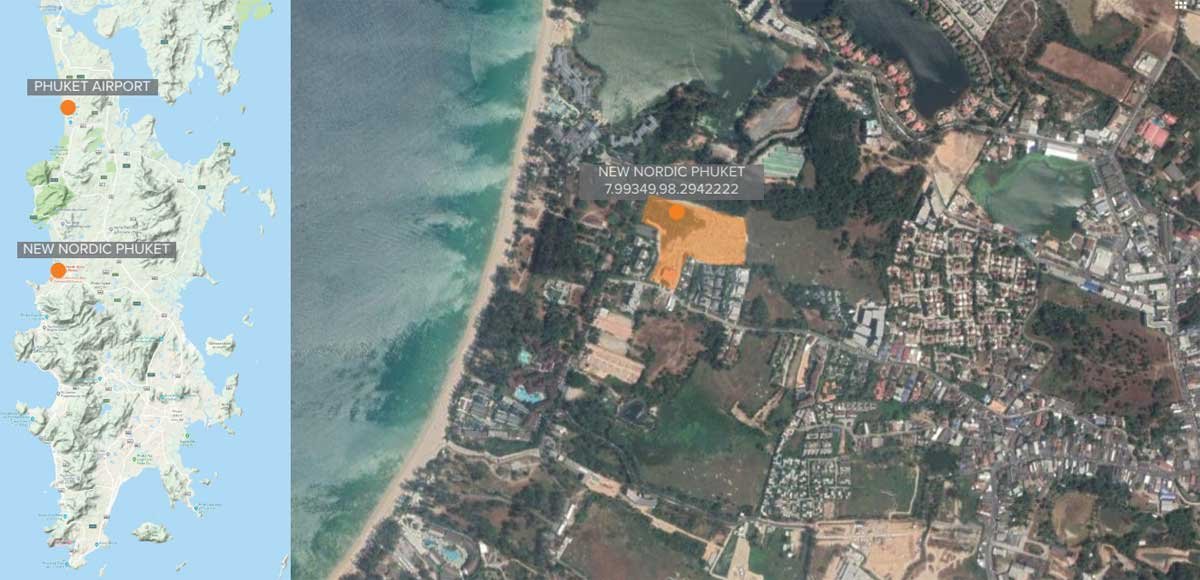 Unique Design
Phuket Water World is a particularly big project with a good variety of condominiums. As the land is close to the ocean the units will have an easy access to beautiful Bangtao Beach. At the heart of the project there will also be a grand swimming pool with slides and areas for the whole family to play and relax.
Phuket Water World consists of a landscape of swimming pools that meander through the whole resort, all connected to each other. It is a great venture for families with children as they can play in the pools with the newest attractions available. The Water World is a safe environment and assures a great day in the resort. Guests can also enjoy a good meal and drinks at various places around the pools.
Following the same quality and brand essence as our other Water World's, the rooms provide the perfect combination of fresh design and smart solutions. The interior is inspired by the ocean, making it a crisp, light and welcoming atmosphere. The family resort is within easy reach of a wealth of the islands culture with local markets, bustling beach clubs, beautiful nature and white sand beaches.
Why Invest in Phuket?
Phuket Water World is located at Bangtao Beach, the largest lagoon of Phuket with 9 kilometres of white sandy beach and crystal-clear blue water; the perfect year-round holiday destination.
The location of our project is superb; only 30 minutes from the international airport and next to Laguna, a 165-hectare high end development with 5-star hotels and golf courses.
Less than a kilometre away is Boat Avenue; a quality shopping mall with Villa Market, exclusive restaurants, galleries and fashion shops.
It is recently announced that Central Group, the number one shopping mall developer of Thailand, will open a luxury Shopping Plaza at the end of our street. Next to this Blue Tree, a major tourist attraction for families, will open its doors just a few minutes away from our resort.
Last but not least it is important to know that New Nordic Management will take care of the Water World Project ourselves.
This means professional hotel management will take care of guests but will also take care of the units you have invested in.
We guarantee to keep the high quality of the construction and equipment at top level, also after many years of hotel operation.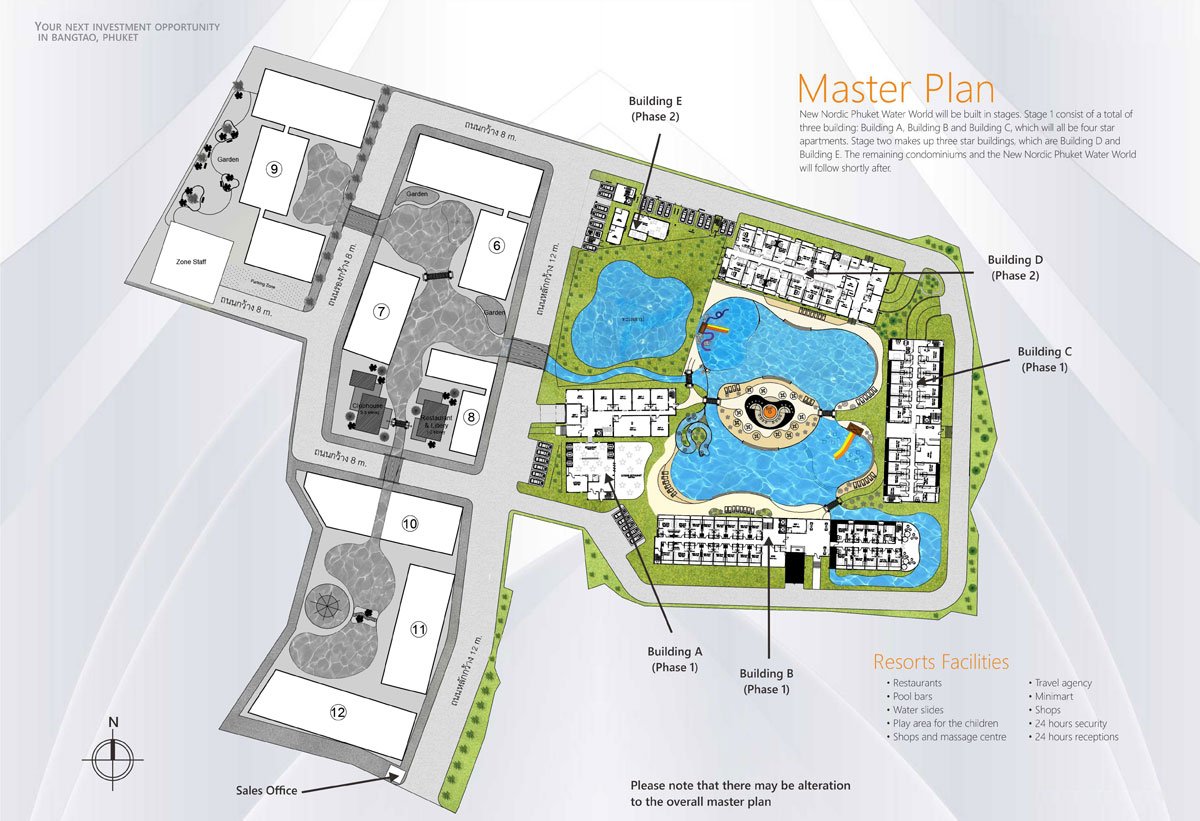 Apartments Layout
Wake up in a bright and inviting room at our Phuket Water World. The fresh interior, heavily inspired by water and the ocean, makes for a calm and relaxing ambiance. The tasteful and practically furnished rooms are spacious, yet easy to clean and keep tidy. The rooms come in a vast amount of different investment options to better meet your requirements and make sure you will find a home at Phuket Water World.
Studio
Our Phuket Water World studios are carefully designed with practical solutions to make the most out of the space. The heart of the room is the big comfortable bed in front of the television. All our studios have a kitchenette as well as a cozy balcony to enjoy the comfortable Thai climate from your very own home.
One bedroom
Our Phuket Water World one bedrooms provide the perfect combination of modern design and secure comfort. The furniture is hand-picked for creating practical solutions and taking great use of all available space. The spacious balcony is perfect for your morning coffee with a view.
Two bedrooms
Our Water World two bedrooms are modern and spacious apartments. They are light and trendy with hand-picked furniture and decoration making them stylish and up to date. The apartments all have a great kitchen area with modern equipment, perfect for making breakfast for the family to enjoy on the balcony. The beds are the heart of the bedrooms with a TV and lots of cabinets.  The bathrooms are modern, with a bathtub and shower.
Get Price List Phuket Water World

630 Appartments for Sale
28 units left only!
Bed: 1Bath: 1sqm: 45.06
Apartments
Get Price List and Promotions