Welcome to Nai Harn Baan Bua, the largest up-market Residence in South of Phuket
Nai Harn Baan Bua developement features an ideal location niched behind the stunning Nai Harn Beach and surrounded by green natural environmnent.
Since 1999 the company has built more than 100 villas within 8 unique residential projects spreading over 200 Rai of land, with the original vision for sustainable growth.
Nai Harn Baan-Bua is now well known as a responsible development with an emphasis on international standards of quality, environmental protection while offering a unique lifestyle at great value.
Get Brochure
Nai Harn Baan Bua
Ideal Location
Nai Harn Baan-Bua is nestled on the southern part of Phuket island, only 1 km from Nai Harn Beach, one of the world's most beautiful beaches with its crystal-clear water and white sand. Behind, a large freshwater lagoon inland covered on both sides by jungle mountains making the area so picturesque. This quiet and tranquil place  is also a favourite anchorage for boats during the high season.
The South of the Island has a convenient and casual access to wide choices of restaurants, supermarkets, fresh bakery shops, butcher and delicatessen, post office, banks, as well as mooring facilities and a boat pier.
With its peaceful and unspoiled character of Nai Harn and Rawai areas, yet close to the conveniences and facilities for residents' living makes it be one of the most desirable residential area in Phuket for a permanent home of retired expats or a vacation spot to rejuvenate people from all around the world.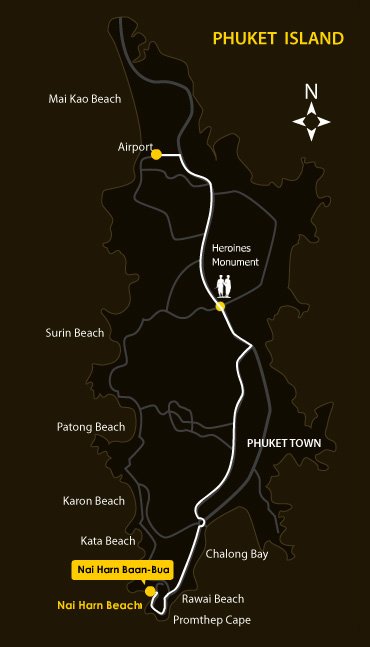 Project Vision
The conceptual idea was to build the dignified property of "Home in Garden" with full of tranquility and high standard quality of construction.
The developer focus on 4 elements when creating new projects:
– Design & Space
The property design focuses to take full advantage of the surrounding environment, ventilation of natural weather and maximizing space of comfortable residential living. Personalized features are also added to give uniqueness to each project.
– Functionality
The development offers all the convenience of modern living combining with position, size and space to be practical and support the individual lifestyle.
– Quality
The developer have its own construction team which is experienced and highly skilled to support both construction and maintenance works.
– Environment
Nearly half of the land development is the superb landscape for the real relaxation to all residents. Feeling of "Home" and tranquility could be grabbed on every corner of the residence.
The development team keeps creating new concept and design for the future projects.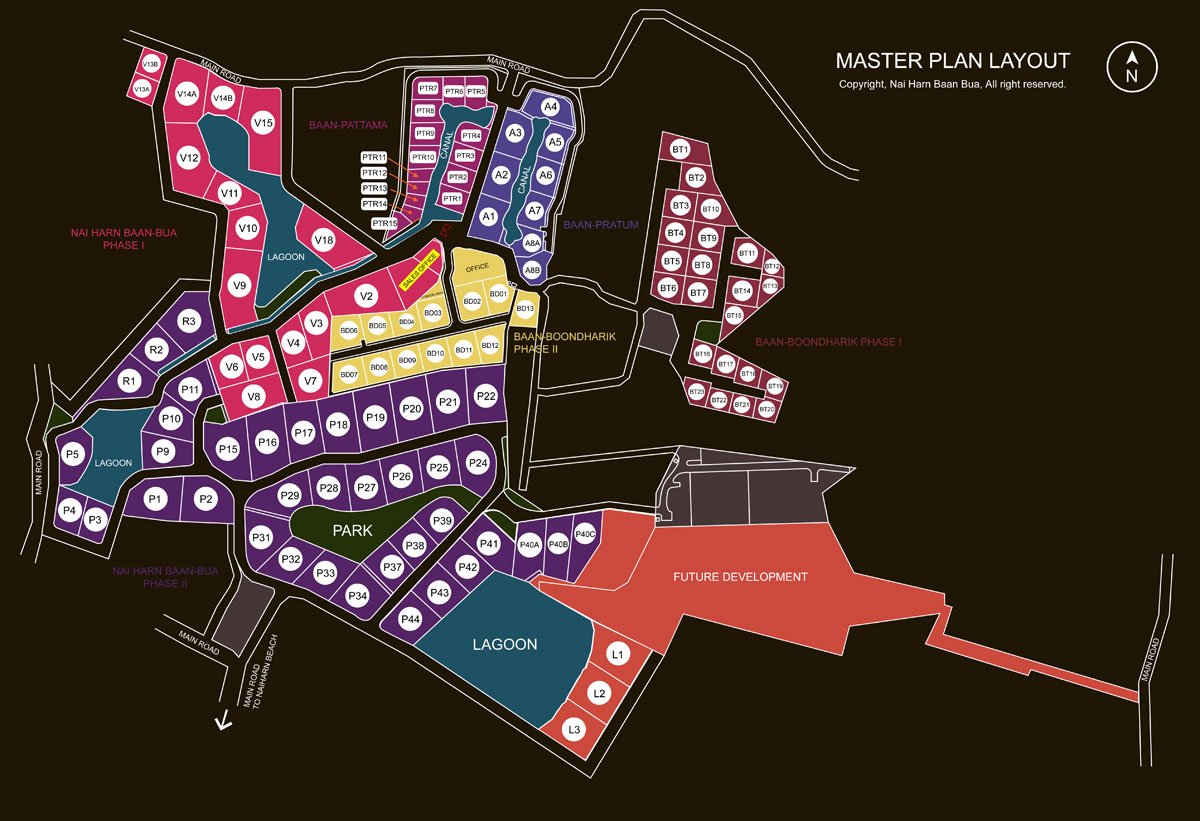 Unique Projects
– Project 1 : Baan-Bua I – Thai Balinese Custom Villa – started in 1999
– Project 2 : Baan-Bua II – Thai Balinese Custom Villa – started in 2004 – More info
– Project 3 : Baan-Pratum – Thai Balinese Canal Villa – started in 2006

– Project 4 : Baan-Pattama – Thai Contemporary Canal Villa – started in 2007 – More info

– Project 5 : Baan-Boondharik I – Modern Zen Villa – started in 2011 – More info

– Project 6 : Baan-Boondharik II – Modern Zen Villa – started in 2014
– Project 7 : Baan-Varij – New Project! – Gallery Loft Design  – started in 2019 – More info

Advantages of buying a property at Nai Harn Baan Bua
– The largest up-market developments in South of Phuket island with a total approximate area of 200 Rai of Land (320,000 sqm)
– Located next to Nai Harn and Rawai beaches with multitudes of shops, restaurants, post office, banks, boat pier to all nearby islands
– 20 years of continuous development with the original Developers vision for sustainable growth
– Secured gated community with 24/7 hrs security
– High quality of construction by own builder team
– High privacy residence developed in serene tranquil environment with surrounding hillside and mountain views
– Spacious green space of development area, in walking distance to Nai Harn Lake and  Nai Harn beach
– Approximate 300% increase in property value from initial investments to present
– Well maintained property management since 1999
– Very popular for short and long term rentals for income return
The concept of Baan Bua Villas 2 is based on building Thai-Balinese Homes in Garden with full of tranquility and incomparable quality of construction.
The project features handmade built-in furniture, green environment from peaceful tropical garden and full function of modern residence living.
Baan Bua II offers a natural tropical setting set beneath the hills, inwalking distance to the Nai Harn Lake and the stunning Beach.

Baan Pattama villas are based on the concept of Canal village to give the fresh feeling of water and tranquility, surrounded by green nature.
Designed n Modern style, but with warmness of Thai interior finishing and tropical garden, the villas offer 1 to 3 bedrooms, in plot size up to 520 sqm.
All rooms are spacious with high ceiling and full of glass doors and windows giving the house be airy and fit to the tropical climate.
Unique Properties
15 plots for sale, 5 villas left only!

Total area of 7 Rai (11,200 sq.m.)
Plot sizes  from 195 to 520 sqm
1 and 2 bedrooms villa designs from 120 to 305 sqm living area
In walking distance to Nai Harn Lake and Nai Harn Beach
Price from 8.6m THB  for 1-br villas to 17.1m THB for 2-br villas
Bed: 1Bath: 1sqm: 128
Villas
Beds: 2Baths: 2sqm: 272
Villas
Baan Boondharik villas are based on the concept of Modern Zen design focusing on simple, relaxed, yet stylish ambience.
The contemporary villas comes in 2 or 3 bedrooms configuration in plot sizes up to 900 sqm and surrounded by green environment.
All rooms are designed to be airy with high ceiling and glass doors giving the house space and fit to the tropical climate.
Niched behing stunning Nai Harn Beach, Baan Boondharik villas offer an ideal choice for residence in quiet environment, yet in easy reach to main facilities.
Beds: 2Baths: 3sqm: 241
Villas
Beds: 3Baths: 4: 354
Villas

Surrounded by the scenic mountain, Baan Varij  project is based on Gallery Loft design with extra high ceilings and glass wall providing natural light into the house.
Both spacious indoor and outdoor living lounge including the gallery loft feature is exclusively designed to maximize use of the space while taking full advantage of the beautiful natural scenery and tranquility to the house.
Baan Varij Villas enjoys also a perfect location in walking distance to stunning Nai Harn Beach. This unique developement in the South of the island is a real opportunity not to be missed!
Beds: 3Baths: 3sqm: 492
Villas
Beds: 4Baths: 4sqm: 527
Villas