Welcome to Botanica Luxury Villas, a collection of bespoke Balinese style pool villas in Bangtao area, Phuket island.
Following the success and the design of 100+ bespoke private villas, the developer launched its largest project in Layan hills named Botanica Foresta.
The pristinely manicured Laguna neighbourhood hosts numerous family oriented activities and is dotted with a plenitude of boutique shops and restaurants.
Unique Balinese style design, excellent locations and perfect investment explain the tremendous success of Botanica villas in Phuket.
Prestigious Developer
Architecture Properties & Development company creates private homes in Phuket for over 15 years, in Bangtao area, Layan and Cherngtalay. The team have applied architectural genius into creating a unique sanctuary living environment filled with calmness and mountain scenery.
Botanica Villas projects are now well recognized and have won prestigious awards as Best Luxury Villa Development in Phuket, in Thailand and even in South East Asian region.
Design Concept
The architects find their inspiration in local culture but also from other countries in Asia, like the Tri Mandala concept from Indonesia.
Traditional Balinese homes, like palaces and places of worship, are designed for harmonious living with an open-air space enclosed by protective walls.
Inside the walls, a spacious courtyard with small pavilions creates tranquillity with 3 Mandala zones to enhance our relationship with nature and the spirit.
Botanica Villas feature free-flowing floor plans with folding doors, transom windows above the doors and vaulted ceilings.  3 standard designs are available to buyersto ensure they get a villa that suits their style.
These elite homes will see natural wood blended with natural stone, imported kitchen cabinetry and high specification smart home technology.
Botanica The Residence (Phase 4)

Botanica The Residence is located in Cherngtalay village, next to Layan beach. The 3 and 4 bedrooms villas feature hard-wood flooring, beautiful wood-framed double beds, en-suite bathrooms, built-in wardrobes, and sliding glass doors opening onto the pool.
A fantastic, over-sized salt water swimming pool is complemented by the manicured gardens, offering a spacious outdoor living area. An outdoor BBQ grill, with ample outdoor seating makes the pool area central. The kitchen is large and modern, fully fitted with western appliances.
1 Villa left, fully furnished and Ready to move in!
Botanica The Residence
Prime location in Cherngtalay
15 villas for sale, 1 unit left only!
3 and 4 bedrooms units
Plot size from  512 to 1,049 sqm
1 villa left, Ready to move in!
Bangtao, Cherngtalay, West Phuket
Details
Botanica  Bangtao Beach (Phase 5)
Botanica Bangtao Beach is a truly stunning Balinese style pool villa, winner of Best Luxury Villa Development in Phuket for several years. The luxury villas feature free-flowing floor plans with folding doors, transom windows above the doors and vaulted ceilings.
The developer has built a sanctuary of pristine beauty and tranquillity in the heart of trendy Bangtao area, and has won multi-awards for his creativity. Botanica Bangtao Beach is only 1 km away from the stunning Bangtao Beach but also in walking distance to restaurants, local markets and shopping malls.
Perfect location near Bangtao Beach
23 villas for sale, 5 units left only!

4, 5 and 6 bedrooms configurations
Plot size from 604 to 1,333 sqm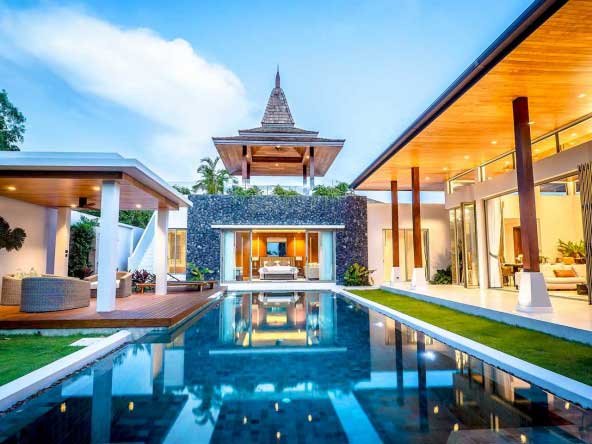 Botanica The Valley (Phase 7)
Botanica The Valley is a newl project offering 13 large luxury villas on Layan hills, from 4 to 6 bedrooms, with infinity swimming pool and landscaped garden.
Designed in an upscale-modern tropical Balinese style, the luxury project clearly stands out in the real estate market for its prime location, modern yet functional design and its exquisite furnishings.
Limited to only 13 exclusive villas, residents at Botanica The Valley will enjoy exclusive privacy, embraced by the spectacular valley hills.
Excellent Location on Layan hills
13 villas for sale, 12 units left
4, 5 or 6 bedrooms configuration
Plot size up from 800 to 1,778 sqm
Featured
Botanica The Nature (Phase 8)

Botanica The Nature, the 8th Project from this Award winning developer, comprises 15 large stunning pool villas located in Layan area. Land plots vary in size between 450 sqm and 754 sqm while each villa offers an internal living space of between 194 sqm to 219 sqm.
The villas features 3 or 4 bedrooms configuration and complete with private swimming pool and landscaped garden. The modern design is similar to previous phases of the project, very popular for buyers and investors since 14 years.
Ideal Location in Cherngtalay
14 villas for sale / 2 units left
3 and 4 bedrooms units
Plot size: 450 to 754 sqm
Ready to move in villas!
Botanica The Lake Side (Phase 9)
Botanica Lakeside comprises 19 private pool villa with Lake views, perched on the hill, closed to Layan Beach and Bangtao Beach.
Botanica Lakeside comes in 3 and 4 bedrooms configuration, in plot land from 381 to 803 sqm. The modern design keeps similarities with previous phases including Balinese Bale, private pool and high quality furniture.
Set on Layan Hills
19 villas for sale, 15 units left
3 and 4 bedrooms units
Plot size from 381 to 803 sqm

Botanica Foresta (Phase 10)
Botanica Foresta is the largest and the last project from the multi-award wining development Botanica villas with a total of 98 luxury homes nestled among the forest just a short drive to the beautiful Layan beach and famous Phuket Laguna.
Set in a prime low-density area, Botanica Foresta offers private villas in a safe and peaceful community. Experience the real feeling of living among the forest.
Surrounded by pristine nature
98 modern pool villas for sale
3 and 4 bedrooms units
Plot size from 389 to 776 sqm

Bangtao, Layan, West Phuket
Details
Bangtao, Layan, West Phuket
Details